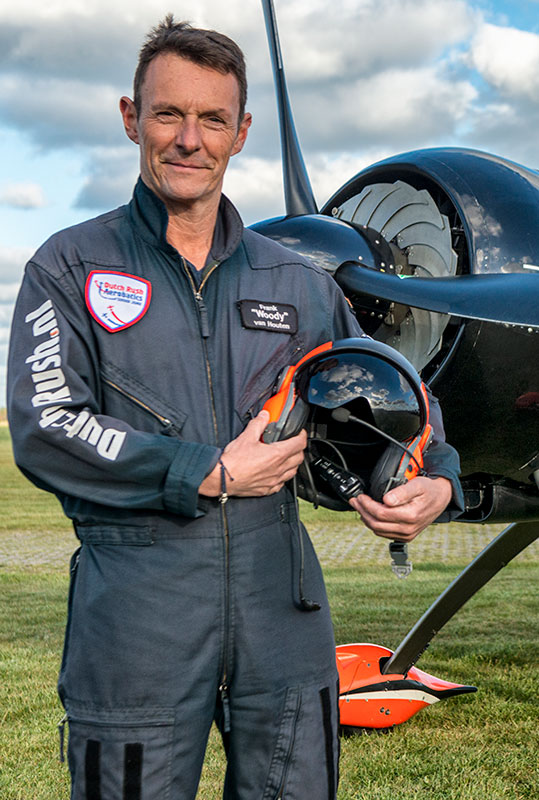 Frank van Houten
Pilot
---
Pilot Frank was an officer in the Royal Netherlands Navy for 15 years flying the Westland Lynx helicopter and the Lockheed P3C Orion maritime patrol aircraft. After the military Frank continued flying in private aviation. He is now flying the worlds movers and shakers around the world on the Global 6000 business jet. . Besides this, Frank belongs to the top world unlimited aerobatic pilots. Frank performs spectacular aerobatic flying displays throughout Europe in his impressive Sukhoi 26MX.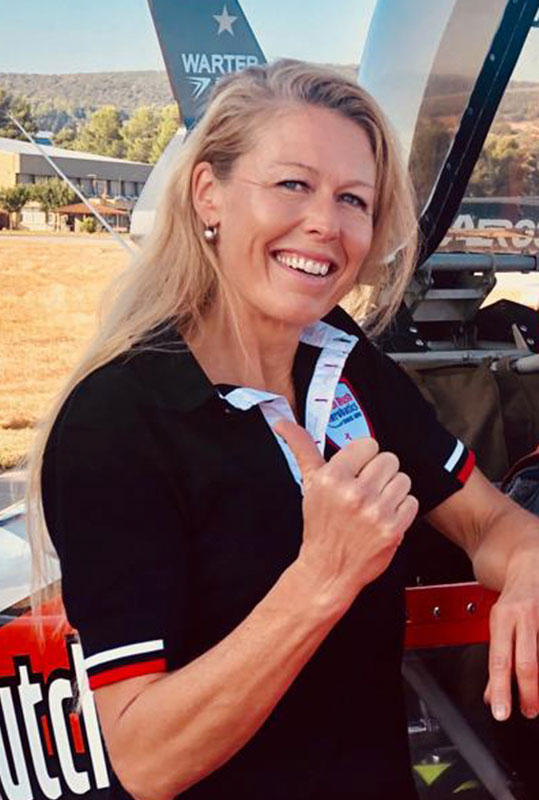 Arja Boon
Team Manager
---
Our team manager Arja has a proven trackrecord in the extreme sports sector. For the past ten years she was the teammanager at GHR Honda and event organizer in the international offroad motor sports. Like the Dakar rally and the FIA/FIM World Series in the Europese, African, Central and Latin America continents. Therefore Arja built a valuable portfolio in international marketing events and media content producties.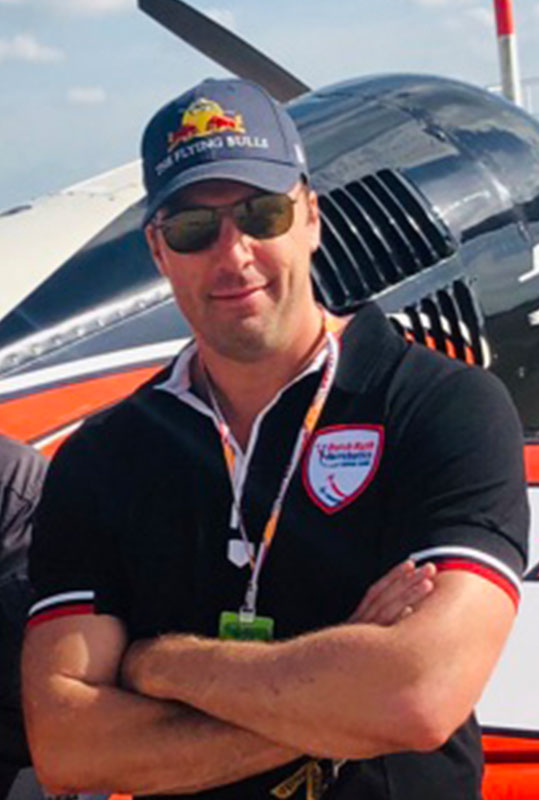 Marcel Lindenbergh
Air Boss
---
In his role as Air Boss, Marcels' main responsibility is scene safety during Franks' shows. He guards the airspace and is in constant communication with Frank and other traffic on a dedicated frequency. Marcel as well is an experienced airshow pilot and therefore has thorough knowledge on how to conduct an air display safely.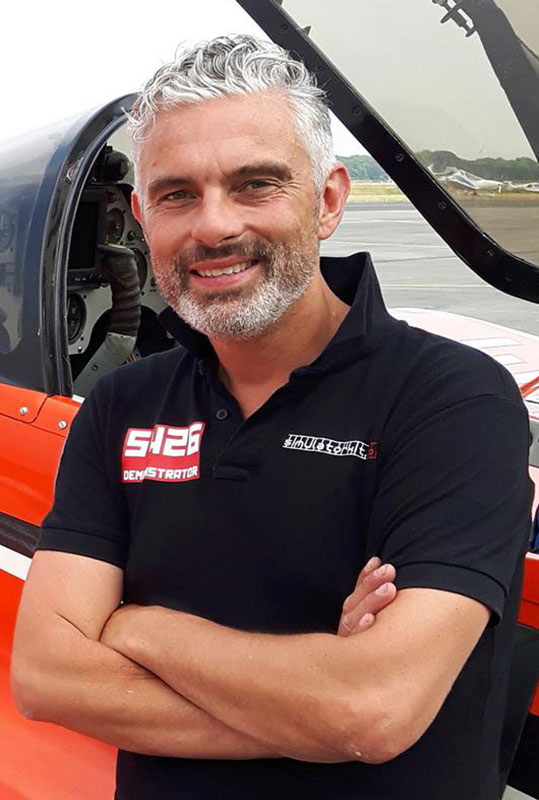 DJ de Boer
Simulator Instructor
---
DJ is a fanatic simulator enthusiast and built an exact copy of the Dutch Rush Sukhoi 26MX. For years he relentlessly searched for components and parts. Or he just made them himself. In the Sukhoi simulator you can be an aerobatic pilot yourself and experience the kick of this kind of unlimited flying. DJ is an excellent trainer and will guide you through this to make sure you have a fantastic experience.
Photo and Video production
---
Vincent is a very experienced video and photo editor and producer with a weak spot for aviation. In doing this he's a true visual magician, focusing on capturing the real emotion and the right atmosphere. He is and expert in taking the viewers along into the beauty of flight and the challenges the pilot is experiencing. He is able to show the audience what others don't see. Whether it's productions for national television, dedicated clips or productions for Dutch Rush, Vincent is able to image the light in a way others don't.
Corporate Identity and Branding
---
Cindy is responsible For the design of the Dutch Rush house style. From flyers to beach flags, from team shirts to presentation layouts. Thanks to Cindy we are always able to appear in style. And not just us, but our clients as well. She is able to create some unique concepts that fit like a glove. Besides that, Cindy regularly serves as a team member for Dutch Rush during our events in various roles.
Airshow commentator/ photographer
---
Cristian is an airshow commentator and narrator with experience in both national and international airshows. In this role he has been the voice of team Dutch Rush for many years. Besides that Cristian also is a true aviation enthusiast. As a photographer for the NL military forces and as a pilot himself he's built a big network and expertise. He operated in a variety of aircraft and teams.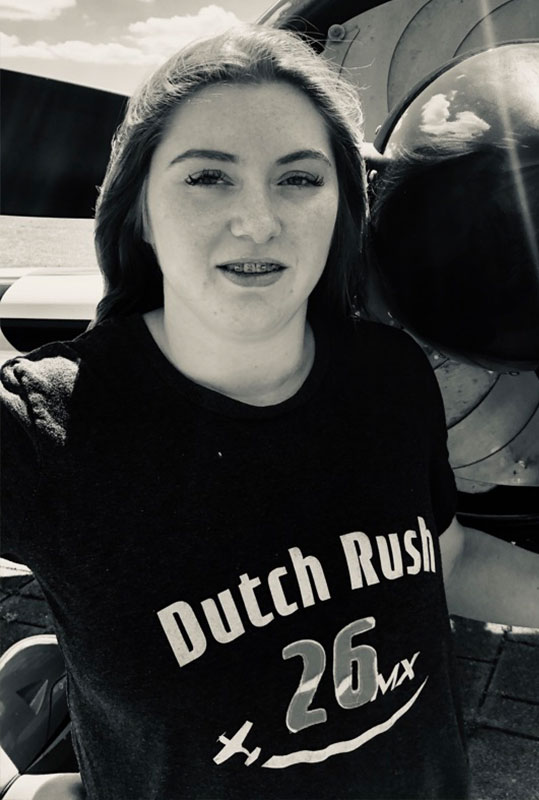 Robin van Houten
Webmaster
---
As a webmaster and web page designer, Robin makes sure the Dutch Rush website is up to speed and runs the way is should. Through her study in Communication and Multi media design in Amsterdam she daily works on creative solutions for complicated problems. Because of this she up to speed with the latest trends and updates. This knowledge is used to make sure the communication between Dutch Rush, our clients and our audience is optimal. Besides this, Robin also regularly serves as a Dutch Rush host at our events and shows.
Maintenance
---
Michael is a very experienced and dedicated maintenance engineer. Taught by his dad he continued to build the company that the old man started. Genuine maintenance, exactly what the Russian Sukhoi with it's 430 horsepower radial engine needs. Michaels radar eye's leave nothing to chance. Because of the professionalism and the precision work of Michael and his team, Frank is able to get the max out of the most complete aerobatic aircraft in the world, the Sukhoi 26MX